Note that this page is from our Gresley Rovers archive. It may not be related to the new Gresley Rovers (formerly Gresley FC until 2020).
Story posted: Wednesday, 11th August 2004
Ashley Dodd signs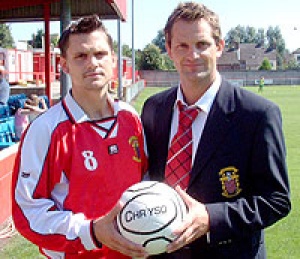 Ashley Dodd with Gary Norton
Gresley Rovers manager Gary Norton has been busy putting the finishing touches to his squad for the club's forthcoming UniBond one campaign.
Midfielder Ashley Dodd has agreed to join the Moatmen after a move to Nationwide Conference outfit Farnborough fell through.
The former Hednesford Town player had agreed a one-year deal with Boro but the club's ownership battle left Dodd nervous about the future there.
"I just want to get my head down and play football" said Dodd, "The situation at Farnborough and the uncertainly that went with it made me think again about the move. That's in the past now and I'm more than happy to be here at Rovers. The Gaffer has made me feel most welcome and I can't wait for the new season to start".
Dodd put pen to paper for Rovers prior to Saturday's Moat Ground friendly against Bedworth and showed the qualities that has made manager Gary Norton delighted with his latest capture, "He's a great passer of the ball, and I think he will chip in with a few goals as well. His addition to the squad means that we have great competition for places in all areas and that can only be good for us".