Story posted: Thursday, 3rd December 2020
Ryan King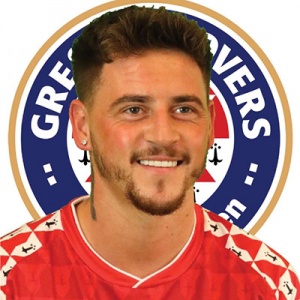 Gresley Rovers are hoping to raise £10,000 for Rovers player Ryan King towards the cost of his ACL surgery on BOTH knees...more.
Ryan is a talented local footballer who's main passion in life is playing football. Thats probably an understatement!! Over the years growing up he played for numerous academys between the ages of 8 and 17 chasing his dream of making it at professional level. He was very unlucky not to get his chance but still chasing his dream he recently moved back to our club (Gresley Rovers).
Unfortunely Ryan suffered a knee injury in pre season and during his recovery thinking he was coming back to be able to play suffered injury again again which led us to support him in getting a scan to have the injury looked at.
Only during this scan did we identify the fact that his injury was actually an ACL (anterior cruciate ligament) and requires surgery.
Going back a couple of years Ryan had a similar issue with his other knee but was managing to play on it with only the occasional issue so whilst getting his recently injured knee scanned we supported Ryan in getting a scan on both knees. The scan actaully uncovered BOTH KNEES need ACL surgery which was devasting news for Ryan. Quite how he had managed to play over the last couple of years with this issue is quite amazing.
The news that he needed surgery on both knees was a devastating blow to Ryan. This week he went to see the surgeon and has been given the rare and unique opportinity of having surgery on BOTH knees AT THE SAME TIME and we want to help him raise the funds to allow him to take this opportinity.
We are calling on ANYONE connected with either Gresley Rovers, Ryans former clubs, his freinds or the wider footballing commuinity to help by considering making a donation to the cause and support Ryan in clinging onto his dream of playing football once more.
IF we can do it and he has both knees operated on it will of course be a long road to recovery but he is so determined to play again so please be generous and help give him that chance.
However small, your donation will be HUGELY appreciated.
Thankyou for reading.
www.justgiving.com/crowdfunding/help-kingy