Story posted: Thursday, 16th June 2022
Club News - Additional Directors Appointed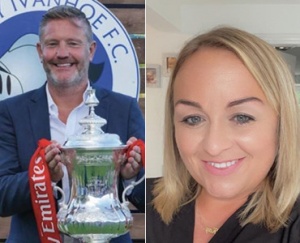 Whilst Gresley Rovers have been busy putting together next season's squad, new Chairman Gary Norton and the club's directors have been busy making additions to the board room and are delighted to announce two new directors.
More...
Kay Brealey is a familiar face at the Moat ground as alongside her father she has been a supporter of the club for most of her life. The local businesswoman is also a deputy head at St Edward's Catholic Academy in Swadlincote and brings with her lots of new ideas that will benefit the club going forward.
On the new addition Chairman Gary Norton commented: "We are delighted to add Kay to our current board of directors as we continue to strengthen for both this coming season and more importantly beyond".
The addition of Kay came in peculiar circumstances as explained by Norton. "How we ended up adding Kay was a little fortuitous to say the least. It came about after a random discussion with fellow board member Corby McDonald on the evening before our penultimate away game of last season at Skegness. Like many connected with the club we had travelled down on the Friday evening and were enjoying a few drinks with supporters as the evening progressed. I was chatting to Corby on how great I thought things were going both on and off the pitch but how I personally felt we should add some diversity into our board and highlighted the fact that we had no female representation amongst our directors. Kay overheard this discussion and things literally went forward from there".
"She is both a local businesswoman involved in the catering industry and also deputy head at one of our local schools so has good standing in the local community. Perhaps, and most importantly for me and like many of our current board members, she is a Rovers supporter at heart and has followed the club just like her dad Howard for most of her life".
Norton added: "That was an important factor to me when deciding to offer Kay this position. Most of our board members have an unwavering previous connection with the club and as such supporters can hopefully rest easy knowing the club is in safe hands and we all have their best interests in mind when it comes to safeguarding and securing the clubs future. Kay will bring a lot to the table and has initially pledged to help us improve our match day catering/refreshment offering to supporters in terms of both quality and selection".
Norton adds: "In the last couple of seasons a few of our supporters have raised concerns highlighting that there was an opportunity to improve in this area and we have listened to that feedback. Given Kay's experience in this area and she has agreed to oversee the match day canteen experience and take it to the next level. In addition, she will be responsible for improving our post-match hospitality offering to players and officials from previous standards. Whilst this will be an initial primary focus for Kay, she brings with her a number of other qualities that will not just improve our existing board but help us with ideas when the long-awaited transition to the new stadium occurs".
Norton also confirmed that former Ashby Ivanhoe chairman Stuart Bonser will also be adding his huge experience to the club after a number of meetings with former Chairman Mark Alflat, himself and several other board members in recent weeks.
Norton explained: "We have been courting Stuart for a couple of months now and have had several meetings with him to try and sell the club and our core values to him. I initially met him alongside another couple of board members after he was put forward as a potential new addition to our board by owner Pete Robinson. He's achieved great things in terms of vastly improving facilities and infrastructure at a couple of lower-level local clubs in Ibstock and Ashby Ivanhoe and brings a huge amount of knowledge, experience, and most importantly new ideas to the club. In our meetings he was keen to put across ideas and opportunities he feels we must engage and connect with supporters both past and present to celebrate what we all hope will be our last season at the Moat Ground. He also will be a huge asset in helping us to transition and operate in the new stadium. He brings a wealth of experience in several areas and will I'm sure in time, just like Kay prove to be a pivotal addition to the board and club for years to come"
Norton and his board have had a busy week which included meeting with the ground maintenance team of volunteers on Monday evening to personally review tasks that need completing at the Moat ground before the new season starts.
Norton explained: "We were keen to meet our team of volunteers and understand the list of tasks that needed completing to ensure enough resource were in place to do them and better understand what we could do to support. We are lucky like many clubs at our level to have a small but incredibly hard-working set of volunteers who look after and maintain our ground which in recent years has become even more of a challenge given the age of the Moat ground. If things go to plan in terms of formal planning permission this will be our last season at the Moat ground but that said, my personal view is that we still need to work hard to ensure we maintain basic standards and try to improve the look and feel of the ground in a number of areas with our supporters' match day experience in mind.
The old lady (Moat Ground) may be 113 years old (1909) and more difficult than ever to maintain these days but the board and I are of the belief that it's important we maintain the Moat as best as we can to the last without of course spending too much money as that doesn't make economic sense".
Together we walked the Moat and identified over 60 tasks we want to complete before the season starts which doesn't leave us much time at all. Many of those tasks are basic painting, maintenance and cleaning type jobs with several more challenging ones where we may need a little support from local tradesmen or to spend a little money. One thing I will ensure whilst Chairman is that we can be the best can be both on and off the pitch and as such we will consistently try to improve and raise standards where possible. As a board we need to instil this mindset throughout the club as we transition to our new stadium and ensure our facilities and infrastructure are the best they can be within our affordable means".
He added "the list of tasks we identified is ambitious and as such we will need help. As such we are going to be holding several "volunteer days" where anyone connected with the club are encouraged to come and join us to lend a hand either by picking up a paint brush, doing some weeding or for example helping us replaced damaged seating in our stand. The challenges of maintaining a 109-year-old ground are endless and we need all the help we can get so we are hoping that we can get several volunteers to come and help on those days by committing a few hours graft. The players of both first and reserve teams will also be helping on this so keep an eye out more detail on how you can help".
Finally, having discussed off the pitch activity Norton moved to on pitch progress and commented "Carl and Paul are working hard to build their squad for next season, and I'm pleased to see he is gradually getting commitments from a number of last season team to remain with us. He's also looking to strengthen our squad with some new recruits to help with ref transition back to step 4 and we will see how those effort pan out in the coming weeks"
One player who unsurprisingly has been a focal point for supporters in terms of his plans for next season is Steve Hart. The 28-goal top scorer was voted supporters player of the year and his contribution last season was instrumental in the club securing promotion from the United Counties league back to the Northern Premier league and supporters are keen see what the future holds for Hart at the club after the striker declared himself a free agent in recent social media posts.
Norton gave his take on things saying: "Like most of our squad Steve was huge for us last season due to his goals. He is prolific at step 5 and we pushed the boat out last season to support the manager in getting him to the club with promotion in mind. That meant that the board made personal and individual financial commitments outside of our agreed playing budget to try and make the deal happen and support the manager in bringing in a known goal scorer of Steve's calibre to push for promotion which was achieved".
"With that goal achieved for the new season Carl couldn't offer Steve the same deal as last season but last week the board agreed we would support the manager in a similar situation to last season if we wanted to retain Steve. The player had gone on record as saying he would remain at the club if he was offered the same deal as last season and as of last Friday that deal has been on the table. We are aware other clubs are courting him and know he has this week trained at Quorn where if he doesn't accept our offer, we expect him to return"
"The ball is in Steve's court now but as a backup Carl is talking to other proven goal scorers and importantly for me ones who are proven at step 4 or above", Norton added.
One player who won't be joining us former Moat man Aaron O'Connor who yesterday confirmed he would be remaining at Carlton Town.