Story posted: Monday, 30th January 2023
BM Logistics Donate Defib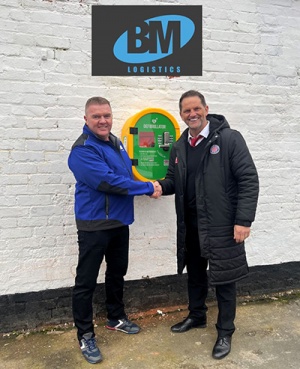 Gresley Rovers Football Club and the local community have a local company to thank for the donation of life saving equipment that has been installed on an external wall at the Moat Ground.
An AED (automatic external defibrillator) is a lightweight portable device used to help people suffering suspected heart attacks has been donated to the club by BM logistics company director and owner Ray Mole.
The use of AEDs, commonly known as Defibs are proven to increase survival rates by around 60-65% by helping to save precious time in the unfortunate event that someone undergoes a sudden cardiac arrest. The Club have registered the equipment on the "Circuit", which is the national defibrillator network that provides the NHS ambulance services with vital information about the location of public defibrillators across the UK so that they can be accessed quickly to help save lives.
Commenting on the donation of the AED chairman Gary Norton commented: "We are extremely grateful to Ray and BM logistics for the donation of both the Defibrillator and indeed the storage unit which has allowed us to register it for public use. This life saving kit is designed for use when someone has a sudden cardiac arrest and can make all the difference between life and death in emergency situations".
Norton added: "We of course hope that the equipment will never be needed but in the event that there's a critical situation those attending our matches at the Moat Ground or indeed members of our local community will have 24 hours access to the defib whilst waiting for emergency services to arrive thanks to Ray and his BM Logistics team."