Douglas Brews
Debut game
v Moor Green (a) 6th December 1958
Final game for Gresley Rovers first team
v Kettering Town Reserves (a) 12th November 1960
Douglas was born in Leslie, Fifeshire in 1930.
He joined Enderby Town and was later appointed as trainer for Town.
In 1975 he was appointed as manager at Lutterworth Town.
Douglas died peacefully in Leicester on Thursday 12th June 2014.
More info provided by Harry Smith
A little bit of background information, Markinch and Leslie are two villages in central Fife about three miles apart. Markinch Victoria Rangers played in the Fife Junior League but there wasn't a team in Leslie who played at that level. Consequently a number of footballers living in Leslie such as Doug Brews played for Markinch VR. As a schoolboy in Markinch I watched the local team and can remember Doug Brews. The last time I saw him was on Leslie Golf Course, home on holiday shortly after he signed for Leicester. Apart from playing in a golf competition with a man from Leslie with the same surname I'd never heard anymore until I inadvertently came across Doug Brews on the Internet. My golfing competitor admitted to being related but couldn't give me any info on Doug's career.
Markinch VR disbanded in the 1950's. Some time ago Fife Junior League amalgamated with similar organisations in neighbouring counties but latterly many clubs have deserted to join a recently created pyramid system in Scotland.
Previous clubs
Markinch Victoria Rangers, Leicester City 1949-51, Hinckley Athletic Sept 1951 (penalty expert), Rugby 1956, Nuneaton Borough,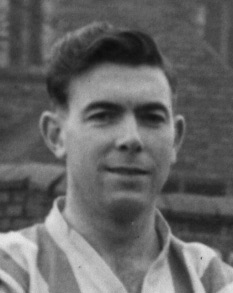 | | |
| --- | --- |
| First Name | Douglas |
| Last Name | Brews |
| Signed | November 1958 |
| Position | Half Back |
| Appearances | 55 |
| Goals Scored | 2 |
| Clean Sheets | N/A |
| Left | November 1960 |